Bachelorette Party Survival Kits for All!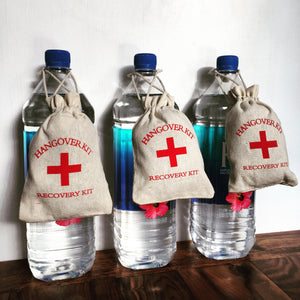 Just came across these awesome looking "Bachelorette Party Survival Kits" online (source unknown...so let me know if you're the creative genius!) and had to share them with you to inspire your creativity!!!
These are a great way to party started and make all the guests feel welcome and special.  Fill some little dollar store containers with items that can help make the Bachelorette Party a little more exciting.  

Items to consider:
- pink lip gloss
- stickers
- mints
- mini liquor bottles
-  leis
- shot glasses
- rings
- tattoos
- candy
- naughty straws
Hey, look at that - we carry so many of those little items!!!...so be creative with how you give them out for a night that no guest will forget!  Be sure to also print up one of our three FREE Bachelorette Scavenger Hunts to include in each favour bag too!
Renée

Leave a comment
Comments will be approved before showing up.