Hee Hee...Love this theme!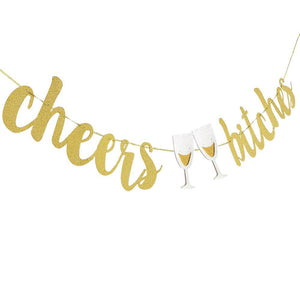 Good morning sexy ladies...or should I say "CHEERS BITCHES!"
I've been seeing more and more of this theme dominating the Bachelorette Party scene and thought I better share it with you.  It works beautifully for that special bride, if that's her style, but not for everyone of course. So make sure you know your audience before going with this one!
Start off with a cheeky invite, like this one I found on Etsy: (You know how I feel about proper paper invitations, right?!)
I love the wording on this invitation "an evening of libations and debauchery"...might as well include: "and leave your dignity at home too!" LOL!!!
Now that the ladies coming know what to expect, be sure to decorate your main party area to follow suit. Check out this amazing homemade banner (found on the blog http://www.wildheartwhispers.com/2012/04/bachelorette-part-2.html )...clearly she LOVES her bride-to-be!!!
Not quite the DIYer?...no worries. We have an amazing Cheers Bitches banner in stock. 
Finally, be sure to have plenty of DRINKS and glassware to cheers with, naughty GAMES to get the party started, and fabulous ACCESSORIES to make everyone feel special...whatever your definition of "special" means! Hee hee.  You'll find it all here on the Planet of course!  
Glasses up!
LOVE from the Planet,
Renée

Leave a comment
Comments will be approved before showing up.