Check out our FREE new fun photo scavenger hunt!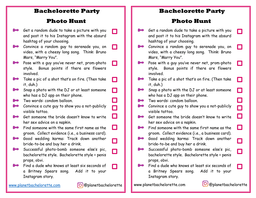 PlanetBachelorette.com offers our loyal customers a new photo scavenger hunt for a guaranteed fun activity!  
Click here for the new Planetbachelorette.com FREE photo scavenger hunt a great mix of naughty and fun photos to collect together while out for the bachelorette party!
Looking for some great decorations, drinkware for the bachelorette, or maybe a tiara for the bride-to-be? Check out our ever expanding inventory!
I sincerely hope that you find what you're looking for in a great photo Scavenger Hunt List right here, but don't be shy to send us your ideas and feedback in the comments, we love hearing from you!
Leave a comment
Comments will be approved before showing up.