Spotlight...on Penis Cakes!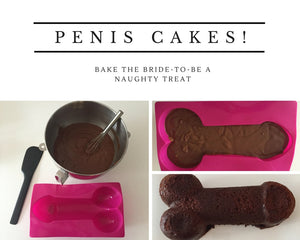 Hey ladies,
Get your creative juices flowing...we now carry silicon 
penis cake
 pans! Bake a sweet treat for the girls and celebrate the bride-to-be with a touch of naughty!
Grab a box cake mix and either follow the printed instructions or doctor up that mix for some seriously delicious taste. Here's an easy recipe for chocolate cake that can be easily substituted with vanilla pudding and a vanilla mix :
Ingredients
18.25 ounce devil's food cake mix
3 oz pkg instant chocolate pudding mix
1 cup sour cream or Greek yogurt (fat free or regular for both works fine)
1 cup vegetable oil
4 eggs
1/2 cup milk
1 tsp vanilla
pinch of sea salt
Instructions
Preheat the oven to 350ºF. Beat together all of wet ingredients together. Add the cake mix and pudding and beat until smooth batter forms. We recommended lightly greasing the mold with butter and then a light dusting of flour. Place your cake mold on a cookie sheet and fill the mold until approximately 2/3 to 3/4 full (there will be extra mix for a few cupcakes) Smooth out the batter with a spatula. Do not overfill - you'll have an overflowing penis!
Bake for 30 minutes, or until toothpick inserted comes out clean.
We want to see what you come up with, so be sure to show us your creative baking pictures or "LIKE" us on Facebook here and see what others are posting...
Leave a comment
Comments will be approved before showing up.