Welcome the girls in style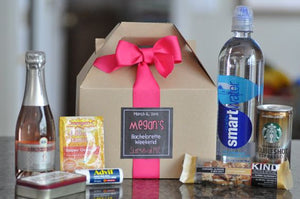 If you haven't already, you better start following us on Pinterest...our boards are just full of great ideas for your next Bachelorette Party, like this:
Welcome your invited guests in style by preparing some personalized kits. I love this funky-fun one seen on Everswoon made by Harmony Creative (on Etsy).
And this super sweet "Survival Kit" version seen on 100 Layer Cake.
However, you can also put something together yourself to show appreciation for your guests and ensure a good time ahead. We have great little bachelorette survival bags that make for memorable keepsakes, or you can grab a cute box for larger items, and just fill them up! Here's some ideas of what you can include:
- Welcome note and itinerary
- mini liquor bottles or champagne bottles 
- custom or plain tees or tanks
- necklaces, boas, hanging shot glasses
- breath mints, gum, candies
- bottled water or recovery drink 
- recovery aid (like Tylenol or Advil)
- tissues, band-aids, wet wipes!
- lip gloss (and polish if it's a weekend!)
- printed scavenger hunt and fancy marker
- any other cute accessories you want everyone to wear (bracelets, name tags, rings...)


Be sure to make the Bride-to-be's box even better with her accessories such as a veil, sash, tiara, hat, special shirt or tank...This would also be the place to put any gift you may decide to give her as a group, such as a gift card (spa, lingerie...).
Don't forget to check out all the amazing items you can include from PlanetBachelorette.com. What do you think of the idea and what might you add to your welcome package? 
Leave a comment
Comments will be approved before showing up.