Plan a custom bachelorette scavenger hunt!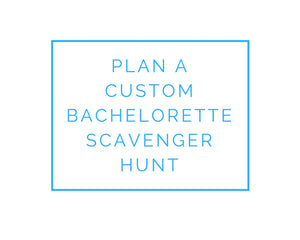 Looking for a fun and memorable idea for a bachelorette? A custom bachelorette scavenger hunt is an amazing way to celebrate the bride to-be and all that she enjoys.
These types of scavenger hunts are perfect for small to medium sized groups of girls and you can make them as long or short as you'd like. Whether you are planning a destination bachelorette or staying in town, a little research and planning will make this a day to remember for the bride-to-be and all the girls.
First, start by thinking of things that the bride loves. This is key for planning thoughtful stops on the scavenger hunt:
her favourite food and drinks
her favourite activities
things you may want to give the bride as a gift
places / activities you may want to do as a group
Once you have ideas for spots to visit, you will then need to write up the clues for each planned location on the scavenger hunt to give the bride-to-be (give the next stop's clue at the end of each stop). The clues may be as straightforward as GPS coordinates, or cutting up a picture of the next stop into puzzle pieces, or as intricate and personal as short poems. Some clue ideas can be found 
here
Here is an example amazing New York bachelorette scavenger hunt that was organized for a bride-to-be during New York City destination bachelorette:
Started the day with Canadian themed Caesars (garnished with dicky straws

 

of course) and croissants in the hotel room to for a light breakfast
As the group got ready for the day, the bride put on the tiara from her gift bag and all the girls applied bride tribe

 

tattoos and custom t-shirts for the day
Rented bicycles and rode them from Manhattan over the Brooklyn bridge in order to get one of the bride's favourite food's (pizza) at

 

Grimaldi's in Brooklyn
Stopped at popular lingerie boutique where the group had pre-bought a blue garter for the wedding day as a gift
Stopped for a drink at the New York's oldest pub,

 

McSorley's, to pay tribute to the bride's favourite hometown pub (also by the same name)
Stopped at popular bookstore in Soho where the group had pre-bought a tour book of Italy (honeymoon destination)
Stopped at

 

Max Brenner's chocolate bar to grab a chocolate treat in honour of the bride's love of chocolate 
Finished the day activities with a final stop at a pole dancing studio for a group lesson
For these types of events, it's important to plan and budget and reach a consensus among the group on how much everyone is willing to spend. Small touches (think showers of 
penis confetti
in the envelopes with the pre-printed clues) will also go a long way.
To the extent your stops are at stores / restaurants / bars, don't hesitate to let them know in advance that your group is coming at a certain time and ask them print out a designated clue / message - you'll be surprised how the staff and owners of stores, restaurants and other places will go out of their way to make your stop special!
As with all bachelorette party activities, we recommend that the organizers make sure that there is a designated person assigned to pay (in the case the cost can be split among the girls before or after) and avoid that on-location awkwardness of trying to split the bill - apps like 
Splitwise
 make the tracking process super easy. 
Leave a comment
Comments will be approved before showing up.